When you try to stop testing…..you end up testing anyway
This blog was originally posted on Medium.
You can't really escape technology nowadays without a pretty big conscious effort to do so, well, not in my line of work anyway. I take notions sometimes to cut down on tech, some days I switch off my phone and avoid the TV for the day. Other days I avoid pieces of technology that are linked to my job and instead try to focus more on ones that allow me to connect with my friends e.g. use Snapchat over Slack, Facebook over Twitter.
On one particular weekend I decided to try this, I ended up really frustrated with the world around me for not testing or thinking about their users and the stuff they put out there.
Culprit Number 1
I had ordered a Christmas present for my niece. I received an email from the company I ordered it from that contained this:

This was the only information contained in an email from a "donotreply@seller.com" email address. This is pretty useless information considering it's the only email I received containing tracking information about my parcel. Do people not test their notification emails?
This isn't the first email of its type that I've received. It became a bit of an obsession with me in my last job to check all of the email notifications we were sending customers and 9 times out of 10 I would find an issue like the one above.
Culprit Number 2
While I was in my emails, I decided I'd do a bit of de-cluttering. I had an email from Farrow and Ball (never signed up to them but there you go). When I clicked "Unsubscribe" I was taken to this page: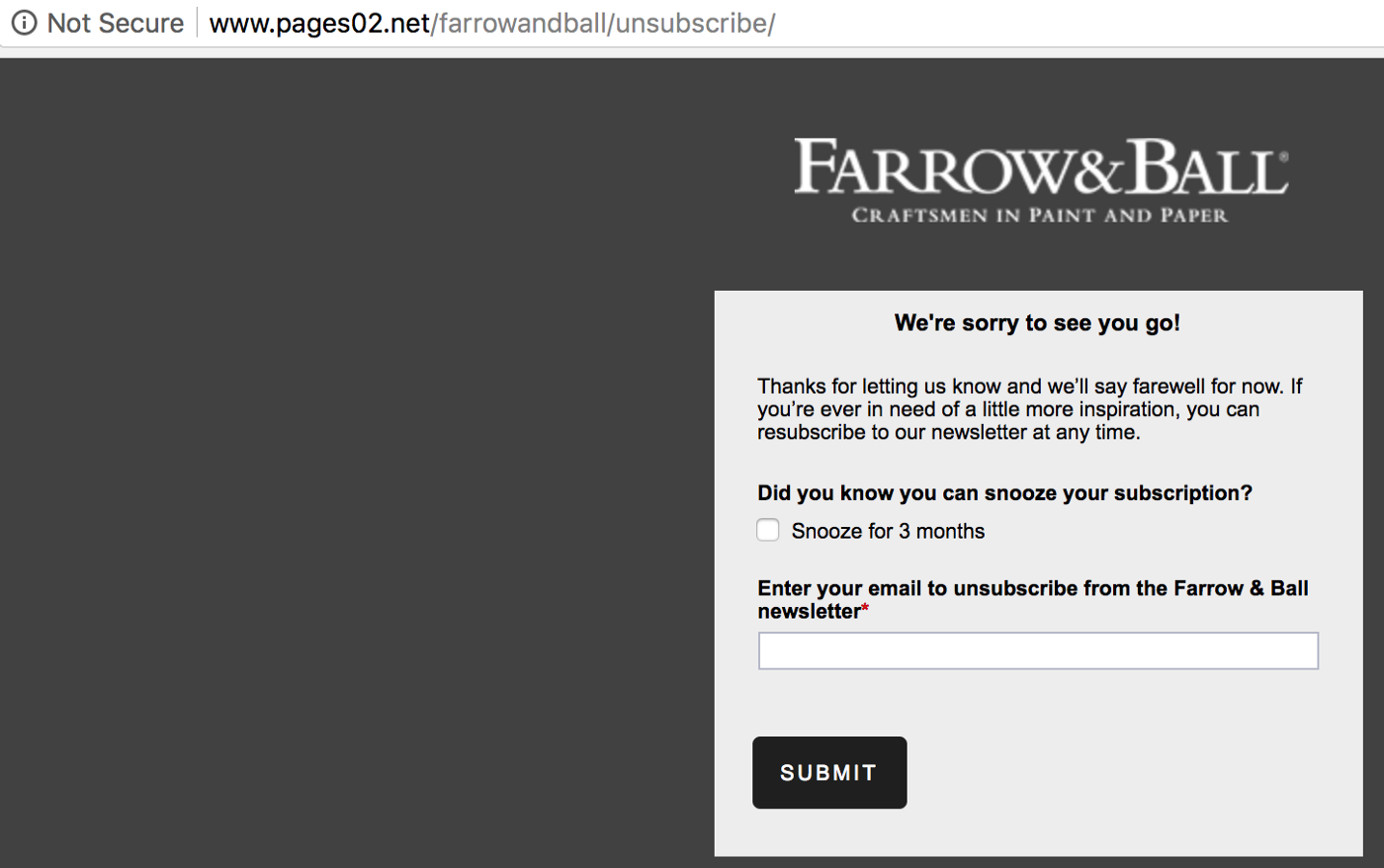 Strange, it's not secured and it didn't have my email recognised (not my first time to unsubscribe from stuff). It wasn't consistent with my expectations of what an unsubscribe option should do….so I tested it: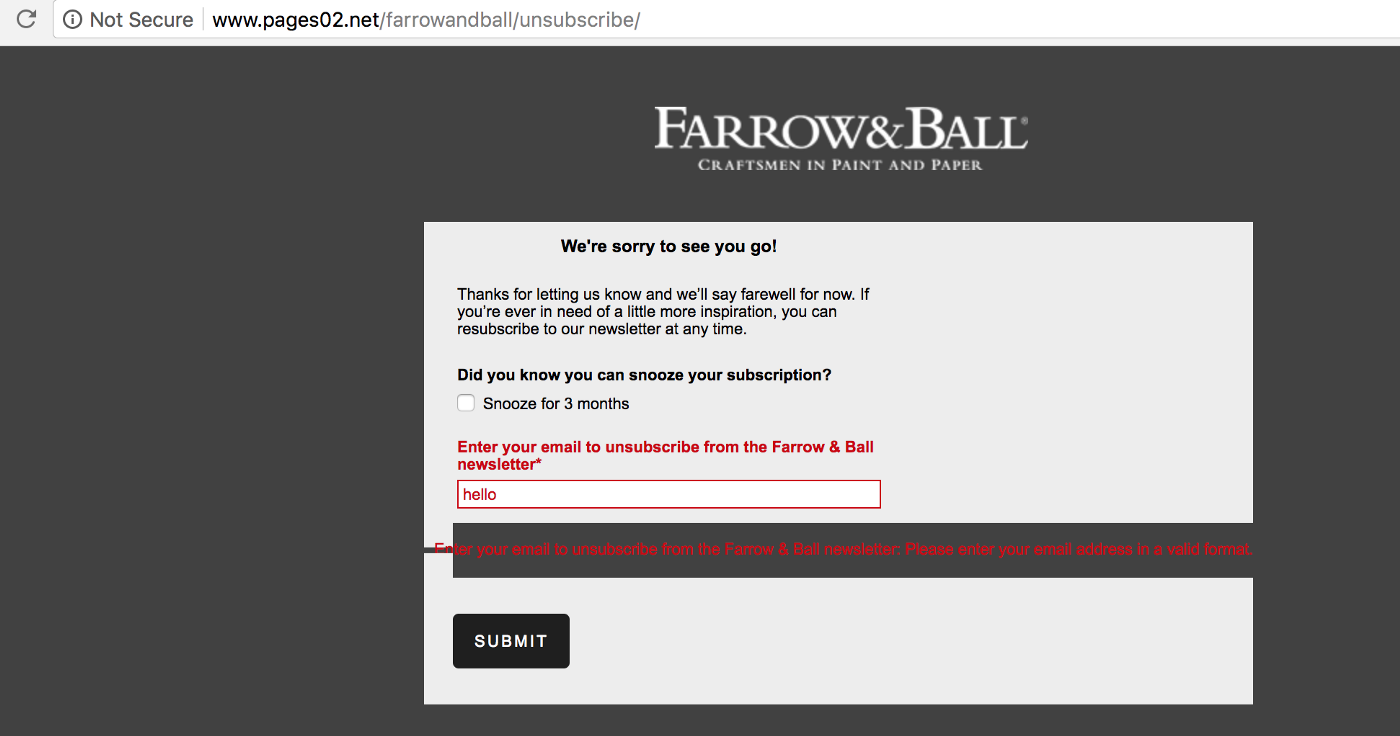 and then I stopped because that hurt my eyes. Instead I marked the email as spam for future so I can delete en masse.
I know as marketers, you probably don't want people to unsubscribe from your mailing list but it is going to happen. Whatever chance you had of that person coming back to you is limited when you further anger them with a bad experience.
Culprit Number 3
We decided to spend the day at the Giant's Causeway and check out the Dark Hedges on the way back. Some of you may have heard the recent news that the road the Dark Hedges are on has been closed to traffic. Not knowing exactly where it was, not having a great phone signal in the area and Google maps not really liking those small roads, we accidentally turned on to the road.
About 100 yards down it we came to a sign.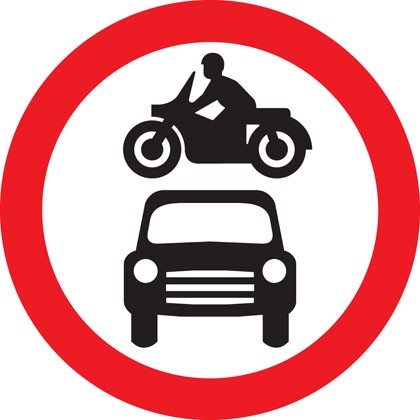 which also had a sign under it about exceptions (I believe it said "Except for access"). This was the only indication that we had accidentally turned on to a closed road. There was nothing before you turned to say it was closed. Given that the large proportion of visitors to this area are tourists, it seemed to me to be an odd location for a sign to say you weren't meant to be on the road. We hightailed it off the road only to return on foot and see a huge tour bus parked right in the middle of the hedges, I guess they didn't see the signs either?
Afterwards I discussed this with one of my previous managers who lives in the area. I thought about the different user types that might be visiting this location. Imagine being an American tourist for example. You're driving on a different side of the road. You probably haven't experienced roads this narrow before. Then you get to the location and the signage is confusing. It's no wonder that other cars made the same mistake we did.
Culprit Number 4
This wasn't as bad as some of the others. It was more of an oddity really from Netflix. When we got home from the trip to the Causeway we thought we'd watch a film. I searched for The BFG…..Netflix's top suggestion for things similar to the BFG was Breaking Bad.
So according to Netflix: Breaking Bad is similar to The BFG 🤔

— Heather Reid (@heather_reiduff) November 18, 2017
It's obviously something to do with their algorithms but it's a bit of a strange one. I'd like to hope that if you were searching in the "Kids" user group, you wouldn't get the same suggestion. I decided to test this too. I got "James and the Giant Peach" and "Matilda" as suggestions, much more in line with what I would have expected.
Culprit Number 5
I had a bit of a rant about this one on Twitter as I was navigating through the site.
In avoiding as many stores as possible over Christmas I'm learning which ones have sites that don't support #mobile, definitely haven't done #performance testing (of any kind) & need to update their SSL certificates 🤦

— Heather Reid (@heather_reiduff) November 19, 2017
If you want to relive my experience, check out the website that ticked most of the boxes.
When I was on this site previously, I was the distracted user. I was looking for ideas but also possibly watching TV or getting food ready or something else. I would click on a link and not notice how long it took to load. I would click on the back button but not pay attention for so long that I forgot where that button was meant to take me so just accepted the page I landed on. This time, I was the determined user. I knew what I wanted to look up or at least the section I wanted to look in. As time passed, I gave up on the site. The response times and overall usability were terrible so I took my business elsewhere.
I then thought: imagine being a parent trying to order things for your children for Christmas. You'd probably crack up trying to use the site!
Culprit Number 6
This one I actually discussed with my dad afterwards. He's not terrible at tech to be fair to him but he wouldn't know some of the stuff I would know, so a regular user. I clicked on a link shared by a friend on Facebook, I can't remember exactly what it was because I've been procrastinating writing this blog for a while. I got a huge warning on my phone letting me know that the security certificate had expired and my browser wasn't going to let me continue.
To me, I know what this means. To my dad he knows that it sounds bad, probably isn't great but still wants to see the page because he clicked on it for a reason. When we talked about this, he raised some interesting points "Anyone can create a website now, they might not know what they have to do to make that website reach certain standards but I guess that's the internet". "Sure isn't that how the hackers get half their information? People like me not knowing what things mean online." He's right, I've just come to expect certain things from interactions online but really it's a bit of a cesspool for some terrible stuff too.
We can't expect that all users of the internet are well experienced users. We can hope, but we can't expect that they are and we need to test for those users too.
Culprit Number 7
Myself and my husband regularly watch the vlogger Shonduras. At the end of the weekend, we were watching a video of Shauns. My husbands phone was showing a battery level of 50%, 2 minutes into the video the phone turned off! Probably more of a hardware problem but it's a regular occurrence with his phone. Do phone manufacturers test this stuff?
The Final Culprit
Oh Snapchat….ever forgotten your password on it? Ever tried to use an asterisk in the new password you're setting and wondered why you can't continue and why you're getting no error messages even when the password seems to comply with the guidelines? This happened my mum when we were helping her set her new phone up.
She started as the patient user "Oh damn can't think of my password, silly me. I must set a new one." As time went by neither her nor I were the patient users. Snapchats password guidelines on the app say that your password must be over 8 characters long and may contain special characters. There's no link out to their site from this and even looking on their site, it seems pretty straightforward.

My mum ended up writing her password out for me on a page. I saw an asterisk on the page and thought "They've hardly excluded those from the special character consideration?" We replaced it with an exclamation mark and password reset was successful. Unnecessarily stressful process as a user!
Moral Of The Story
I tried to reduce my use of tech over one weekend. I tried to focus on my family and friends more. What I learned is, no matter where I go or what I'm trying to do, be it order Christmas presents for loved ones abroad, visit some tourist attractions with family or de-clutter my emails, I will never be able to stop testing.